CORPORATE
SOCIAL RESPONSIBILITY
At OMONIA TRANS, we believe that a successful company can never operate in isolation from society and its needs. That's why, since the first day of business, and long before the term "Corporate Social Responsibility" was introduced into our vocabulary, we have operated not just to realise profits, but to support Greek society.
Our strategy, as applied through our CSR activities and actions, is very specific: We set and achieve our targets on a daily basis in each of the 3 fundamental pillars that comprise our approach to sustainable development.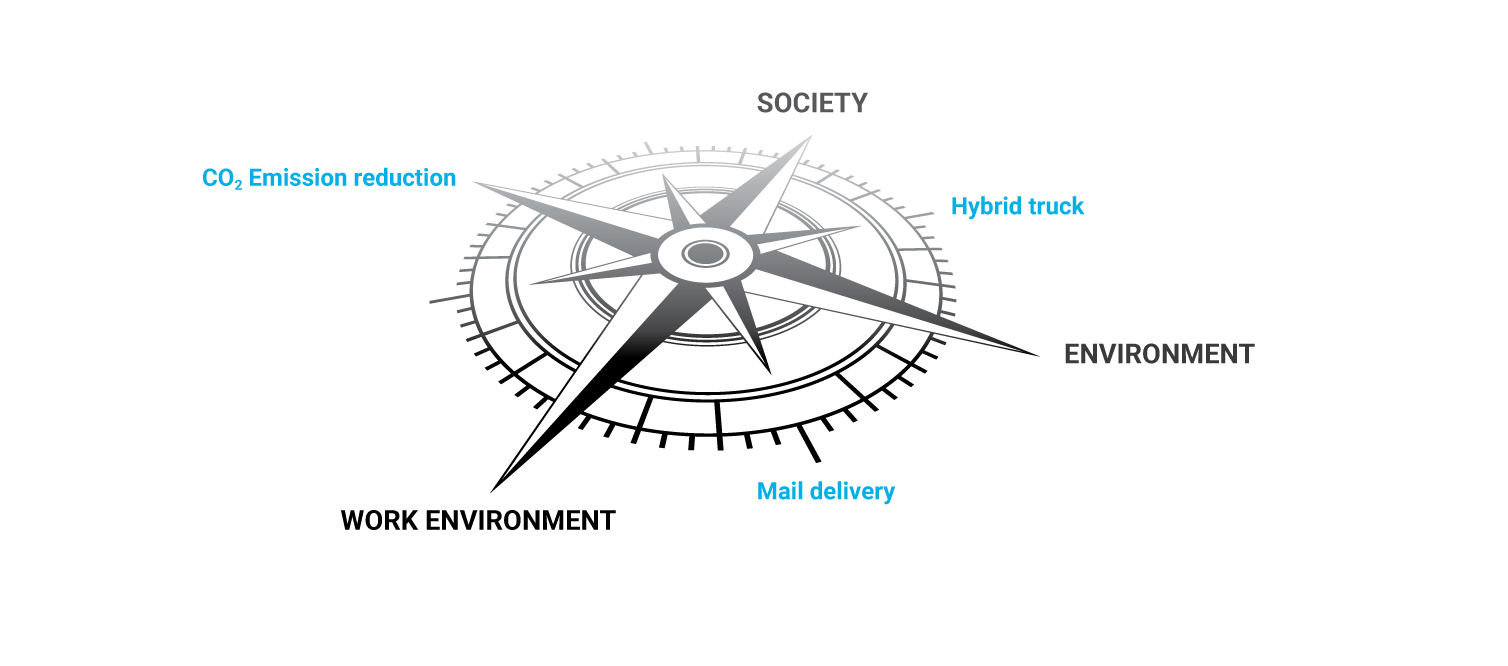 SOCIETY
We know that the growth of OMONIA TRANS is integrally related to the prosperity of Greek society. Through a particularly broad range of actions and activities, we contribute to society and support vulnerable social groups by creating a positive socio-economic impact.
ENVIRONMENT
Where possible, we minimise our environmental footprint, at all stages of our transport chain.
WORKPLACE
We constantly invest in our people to ensure an inclusive working environment with equal treatment and opportunities for everyone.
OMONIA TRANS CSR ACTIONS
Hybrid lorry

OMONIA TRANS is the only transport and logistics company in Greece to invest its own equity in purchasing a hybrid truck. This vehicle is used to deliver goods to our customers in the high-traffic centre of Athens.
Correspondence delivery

Part of our correspondence is delivered by a bike courier. Less CO2 in the atmosphere – more oxygen for all of us!
Reduction of carbon footprint

Initiatives such as replacing lighting and aluminium fitting in our building, as well as regular maintenance of our heating units, mean we can shrink our carbon footprint even further.
Additionally, OMONIA TRANS is certified to the ISO 14001 standard which, aside from ensuring the safe and responsible management of our company fleet, also protects the environment through best-routing practices and better vehicle maintenance.
Garment recycling program
In 2014, we embarked on an important garment recycling program in cooperation with our customers representing some of the biggest names in fashion. The program is ongoing and has resulted in recycling thousands of clothing items.
Support for flood victims
OMONIA TRANS could not just stand by as Greece was struck by tragedy. During the Mandra flooding, our company offered assistance to victims there by providing free transport of goods to the Municipality of Mandra and helping to distribute them to its citizens.
Construction of new 'green' building
As part of OMONIA TRANS' strategic decision to continue reducing its carbon footprint in both the short and long term, plans were made to expand the company's warehouse facilities in Lykovrysi, Attica, through construction of a new, bioclimatic building.